L293D is basically a motor driver or controller. It has two builtin H-bridge circuits which are able to control two DC motors simultaneously in both clockwise and counter clockwise direction. It acts as an current high amplifier because it take low current signal at its input and provides higher current signal at the output in order to drives different load e.g stepper motor & DC motors. Its features include large inpu voltage supply range, large output current high noise immunity input signals etc. Its common real life applications include stepping motor drivers, relay drivers, DC motor drivers etc. L-293D motor driver/controller is shown in the figure given below.
1A Dual Motor Driver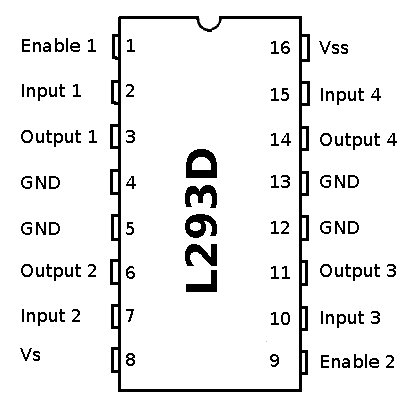 1. L293D Pins
L-293D has sixteen (16) pins, having different individual functions.
All of these sixteen pins along with their serial no, are given in the table shown below.
L293D Pin Functions
L 293D each pin has different tasks to perform when they are in working condition.
The tasks assigned to each pin are given in the table shown below.
 L293D Features
L-293D has several features including:
High output current up to 1A/channel.
Wide voltage supply range ranging from 4.5V to 36V.
Peak output current up to 2A/channel.
Internal Electrostatic Discharge (ESD) protection.
A separate input supply.
Inputs having large noise immunity.
 L293D Applications
L293D has a lot of applications including:
DC motor drivers.
Relay drivers.
Stepper motor drivers.