Function Introduction:
1. based on Arduino 2560, compatible with RAMPS 1.4 pin configuration, All in one solution, small volume, especially suitable for MINI type 3d printers.
2. provide a heating end, MAX 240W (here range according to MOS parameters)
3. support the hot bed MAX 240W (maximum current is not more than 10A, recommended temperature below 100 degrees Celsius).
4. power supply: 12 or DC 24V (can use notebook computer power supply or other switching power supply).
5. two way temperature measurement (thermistor) input, one for the hotbed, one for the heater.
6. six limit switches, 3 min, 3 max (six switches are recommended, which can avoid collision).
7. reserved I2C expansion port, ESP-01 WIFI module interface to facilitate the user to add functionality.
8. one way adjustable fan interface, two power supply interface (can be used for fixed output of the fan or LED and other equipment).
9. Allegro, the maximum current limit of A4988 1.0A, based on the two phase stepper motor drive.
10. The onboard TF deck, and perpendicular to the surface, beautiful and convenient place.
11. Integrated 2.4 inch 12864 display, can be achieved in Chinese or English (depending on the firmware).
Diagram: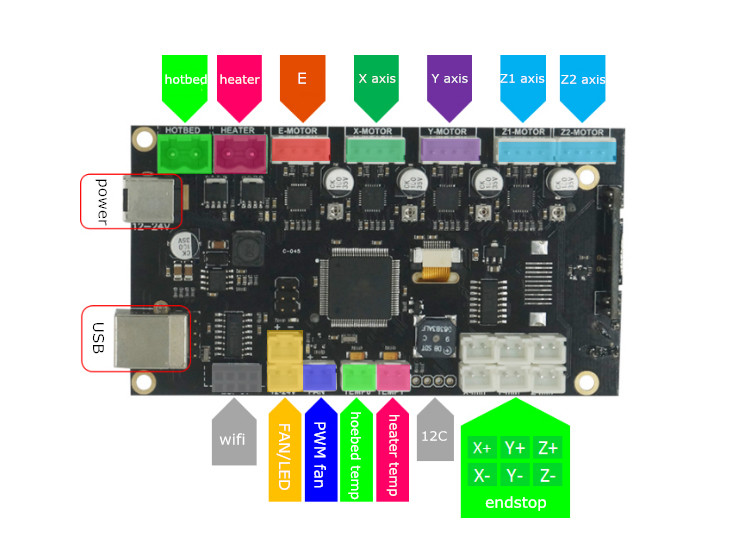 Description:
1. The output voltage of the thermal head, hot bed and FAN / LED, PWM fan is equal to the input voltage. When using 12V power supply
These interfaces are 12V, 24V power supply when using these interfaces are 24V
2. Limit switch is connected to S (signal terminal) / GND for mechanical limit switch (also connect to S (signal terminal) / GND / 5V, for photoelectric switch, at this time need to remove the white seat Son to welding pin)
3.I2C interface, from left to right as follows: SCL, SDA, GND, 5V
Size: